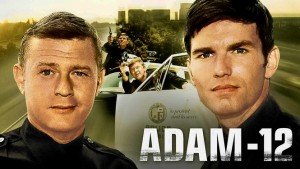 When I was a kid, one of my favorite shows was ADAM-12. I'm sure it had something to do with the car chases, foot chases and the gun-fire. But recently, with the dearth of quality television shows, I took the opportunity with my NetFlix subscription to revisit ADAM-12 as a trip down memory lane. I was primarily interested watching the show to see the old cars, billboard signs and store advertising, but after the first couple of episodes I was hooked all over again. But this time around, I discovered something interesting: As a child I was drawn to the action, but this time I realized how little action the show really contained.
In fact, the majority of the show explored the relationship between Officers Malloy and Reed. What I found this time around was a serious, yet fun show about co-workers who grew to be friends and in the end, brothers in arms. The humor within the dialog served to break the tension and build the sense of comradery between the older more experienced Pete Malloy and the young rookie Jim Reed. I also realized that Jack Webb was a genius who actually created the first reality television show with Dragnet and then expanded the possibilities with ADAM-12 and then took the concept even further with Emergency! Granted, the shows were all fiction, but it was fiction based on reality. LA Police Officers were paid finders fees for bringing their best real-life stories to Webb who then incorporated them into his shows. Webb wanted to bring the life of a patrol cop to the screen with all its boredom, paperwork and momentary excitement included. In fact, he was such a stickler for keeping it real, several episodes of ADAM-12 were actually used by Police Academies as training films.
The key to Webb's success with ADAM-12 was in the casting. Back when he starred on Dragnet, he balanced his dry delivery by casting Harry Morgan as his sidekick. Morgan brought a sense of humor to the staccato delivery of Webb and Dragnet became a great success. Harry Morgan would eventually take the wry sense of humor he displayed in Dragnet to M*A*S*H as the beloved commanding officer of the 4077th. But ADAM-12 was a different kind of police show than Dragnet or any that had ever been on television before. The goal was to portray police life as realistically as possible which meant that there would be a lot of non-action sequences and if audiences didn't relate strongly to the characters, it would not have worked.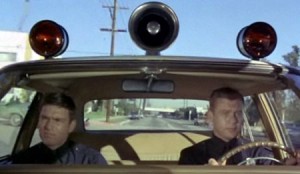 I don't claim to know all the details of how the choices were made, but in the end Martin Milner was cast to play the older, more experienced officer Pete Malloy, while Kent McCord was cast to play the younger rookie, Jim Reed. In a slight twist, the younger Reed was married and settled while the older Malloy was a confirm bachelor who always seemed to be dating someone different, never seeming to find that certain someone, much to the chagrin of Reed. In fact, over the course of the show, Reed tries repeatedly to sell Malloy on the benefits of marriage only to be gently rebuffed.
As I said earlier, when I was a kid, I missed all of these subtleties of the relationships between the actors, but even if I had noticed it, I would have probably not understood it.
Here's another example of how the casting of this show made all the difference. Malloy was supposed to be the one with experience and "gravitas," so who did Webb get to play the Sergeant who is supposed to be the senior officer?
None other than William Boyett was cast to play Sergeant William 'Mac' MacDonald and he did an an awesome job of being leader to both Malloy and Reed. He was tough when he needed to be and a friend when that was called for. With relatively few lines of dialog over the course of the show, Mac does a great job of projecting the sense of being the boss, and yet he clearly conveyed a close relationship with Malloy. There's an episode where with difficulty, Mac approaches Malloy to talk about his relationship with his wife and on a previous occasion Malloy stepped in to try and mend the relationship between Mac and his son. When there is a crises that requires Mac to be at the scene of the crime, he often delegates to Malloy. That doesn't mean he doesn't trust Reed, but it's made clear through the course of the show that Mac and Malloy go back a long way and have developed a deep sense of respect for one another.
ADAM-12 Guest Stars, Directors & Writers
Over the years, ADAM-12 included a wide array of guest stars, directors and writers. People like Stephen J. Cannell who wrote 15 episodes of ADAM-12 went on to create or co-create nearly 40 television series, mostly crime dramas, including The Rockford Files, The Greatest American Hero, The A-Team, Wiseguy, 21 Jump Street, Silk Stalkings, and The Commish. Ozzie Nelson of Ozzie & Harriet fame directed a couple of episodes and there was even a father and son pair of directors. Lindsay Wagner had her television debut on ADAM-12 before becoming the Bionic Woman. Jodie Foster played a lost child, Dick Clark played a race track owner and Mark Harmon played a rookie cop before going on to lead the investigative team on NCIS.
Click on any item below to explore more about the guest stars, directors and writers…
Notable Guest Stars
Notable Guest Stars
Willie Aames ("Eight is Enough") – Appeared twice, as a youngster whose football is squished by armed robbers, and one of two boys from Montana who steal some camping equipment and attempt to hitch their way back to Montana (home).
Jed Allen – plays "Reno West," an elusive ex-con who tests Reed & Malloy as a burglary suspect in several episodes.
Army Archerd – plays a reporter in the "Foothill Division" episode.
Ed Begley Jr. ("St. Elsewhere") – played a "punk" teenager in the "Million Dollar Buff" episode.
Karen Black (Actress) – appeared in the episode "Producer."
David Cassidy ("The Partridge Family") – plays a teenaged neighbor of Reed's in a couple of episodes.
Dick Clark ("American Bandstand"/TV Producer) – plays the owner of a drag strip who gives some car clubs a place to drag.
Robert Conrad – appeared as a LA County Assistant District Attorney helping Reed & Malloy serve a warrant.
Ellen Corby ("Grandma Walton" of the "Waltons") – played in several episodes.
Aneta Corsaut (The Andy Griffith Show) – plays Malloy's girlfriend in the "Lady's Night" & "Something Worth Dying For" episodes.
Scatman Crothers ("The Shining") – plays an old guy who leads Reed & Malloy to a stolen property ring.
Tony Dow ( "Wally" of "Leave It To Beaver") – plays a Marine Corporal victimized by theft ring of young women who steal cars.
Micky Dolenz ("The Monkees") – plays a biker in a biker group suspected of being purse snatchers in the episode "Dirt Duel."
Donna Douglas ("Ellie May Clampett – Beverly Hillbillies") – plays a snobby rich woman who reports a prowler.
Jodie Foster (Oscar Winning Actor/Director) – plays a schoolchild.
Art Gilmore (Lieutenant Moore) – plays Lt. Moore in the series, appeared in all of the early episodes (1968-69).
Sharon Gless – ("Cagney & Lacey") – plays a Deputy D.A. in an episode.
Leo V. Gordon I – Wrote the most of the "Adam-12" episodes, and appeared several times in the series; "Buff" episode, a bank robber taking Reed hostage ("Trouble in the Bank"), a wanted murderer, and crooked Auto Wrecker ("G.T.A."). Mr. Gordon was a character actor (Night of the Grizzly) and very popular in the 60's and 70's, and most recently was seen in the Mel Gibson movie "Maverick" as a poker player in 1995.
Deidre Hall – (Of Soap Opera Fame) – plays a very young nurse in one episode at Rampart General Hospital.
Mark Harmon ("St. Elsewhere", "NCSI") – plays a rookie officer teamed up with Reed while Malloy subs for Sgt. MacDonald in 1974.
June Lockhart ("Lassie", "Lost in Space") – plays a mom whose son is juvenile delinquent in a two-parter episode – "Camp."
Trini Lopez – played a priest serving latino gangs.
Marco Lopez – (L.A. Firefighter Lopez of "EMERGENCY!") – Plays Officer Sanchez in the early episodes of 1968 through 1969.
Randolph Mantooth (John Gage – "Emergency") – appeared as a stable hand in 1970, as well as a cameo appearance as John Gage.
Tim Matheson (Animal House) – plays a horse thief in an episode from 1969.
Kristen McCord (Kent's Daughter) – plays the witness to Malloy's kidnapping in the "Operation Action" episode.
Amy Milner (Martin's Daughter) – plays the daughter of a store owner wounded during an armed robbery.
Andy Milner (Martin's Son) – acted as a stunt rider in the pursuit of a mini-bike through a neighborhood ("Northeast Division").
Ed Nelson – appeared in the "Clinic on Eighteenth Street" episode as the lead officer in special unit of the DA's Office.
Ozzie Nelson (Actor/Director/Producer/Writer) – played a store owner in an episode he directed.
Kip Niven – appeared as Malloy's rookie partner while Reed is on light duty for a hand injury. Encounters include a car chase and a bomb threat to the Station.
Jayne Meadows (Wife of Comedian Steve Allen) – plays an eccentric lady who blows a stop sign right in front of Reed & Malloy.
Butch Patrick ("Eddie" of the "Munsters") – plays a young thief encouraged by mom to steal for her, and a troubled youth who slashes the Adam-12 patrol car's tires on a visit to an elementary school.
Jo Ann Pflug (M*A*S*H* – "Lt. Dish") – Partnered with Reed, plays the first women put on the show as a regular patrol officer.
Frank Sinatra Jr. – plays a fellow officer & Deputy District Attorney prosecuting a "quack" doctor in another episode.
Laurette Spang – plays the victim of an obscence phone caller who is assaulted by the psycho.
G.D. Spradlin – plays a credit card forger in the "Harbor Division" episode.
Andrew Stevens – played an Explorer Scout who repairs Reed's television set.
Kevin Tighe (Roy DeSoto – "Emergency") – plays his character from "Emergency" in a cameo appearance.
Lindsay Wagner (Jamie Summers – "Bionic Woman") portrayed a jewelry counter clerk in her television debut.
Michael Warren ("Hill Street Blues/Officer Bobby Hill") – plays a Marine in the LA International Airport episode, ripped off by a pickpocket.
Johnny Whittaker (Family Affair) – plays a youth who leads Reed & Malloy in a long pursuit on a mini-bike.
Jo Ann Worley ("Laugh-In" 1968-70) – plays a roller-derby bomber queen who takes a liking to Malloy.
Barry Williams (Greg of the "Brady Bunch") – plays a character "kid" in several of the early episodes.
Tom Williams (Adam-12 Producer / 1968-1975) – Was the voice of the male dispatcher, and appeared as a drunk blowing into a "breathalizer" in Log 122.
Directors
Directors
Dennis Donnelly (28 episodes, 1971-1975)
Hollingsworth Morse (21 episodes, 1968-1975)
Christian Nyby (19 episodes, 1970-1975)
James Neilson (19 episodes, 1970-1972)
Lawrence Doheny (13 episodes, 1972-1974)
Joseph Pevney (11 episodes, 1969-1975)
Alan Crosland (10 episodes, 1968-1970)
Phil Rawlins (9 episodes, 1968-1969)
Robert Douglas (6 episodes, 1969-1970)
Christian I. Nyby II (6 episodes, 1973-1975)
Oscar Rudolph (5 episodes, 1970-1971)
Sam Freedle (5 episodes, 1972-1973)
Bruce Kessler (3 episodes, 1969-1970)
Jack Webb (2 episodes, 1968-1974)
Alan Crosland Jr. (2 episodes, 1969-1971)
Jean Yarbrough (2 episodes, 1970-1971)
Ozzie Nelson (2 episodes, 1971)
Robert M. Leeds (2 episodes, 1972-1973)
Norman Abbott (2 episodes, 1974)
Writers
Writers
Robert A. Cinader, Creator (174 episodes, 1968-1975)
Jack Webb, Creator (174 episodes, 1968-1975)
Michael Donovan (21 episodes, 1969-1973)
Leo Gordon (21 episodes, 1971-1975)
Stephen J. Cannell (15 episodes, 1971-1973)
Robert I. Holt (14 episodes, 1968-1973)
Preston Wood (12 episodes, 1968-1973)
James Doherty (11 episodes, 1969-1972)
Richard Morgan (6 episodes, 1968-1969)
Guerdon Trueblood (5 episodes, 1969-1970)
John T. Dugan (4 episodes, 1970-1971)
Norman Katkov (4 episodes, 1970-1971)
David H. Vowell (4 episodes, 1973-1975)
William J. Keenan (4 episodes, 1974-1975)
Walter Dallenbach (3 episodes, 1974-1975)
Jack Hawn (2 episodes, 1969)
William P. McGivern (2 episodes, 1970-1971)
Herbert Purdom (2 episodes, 1971)
Leonard F. Hill (2 episodes, 1972-1973)
Jeffrey Lewis (2 episodes, 1972-1973)
Jim Carlson (2 episodes, 1973-1974)
Bryan Joseph (2 episodes, 1973-1974)
Kenneth Johnson (2 episodes, 1973)
Edward J. Lakso (2 episodes, 1973)
Arnold Somkin (2 episodes, 1974)
Jerry Thomas (2 episodes, 1974)
The supporting characters of the show are also well chosen. Fred Stromsoe played Officer Jerry Woods, a steady officer with a great sense of humor. Gary Crosby played Officer Ed Wells who started out being an annoying, ready-fire-aim sort of guy, but gradually changed into a loveable rogue who tells really bad jokes. In a bid to be as real as possible, Jack Webb cast Shaaron Claridge (a real-life LAPD dispatcher) as the dispatcher for the show. Shaaron was only on camera in one episode, but she as much as anyone was responsible for making the show as success. Her voice is heard at the beginning of every show and at the beginning of nearly every call the ADAM-12 team were sent on.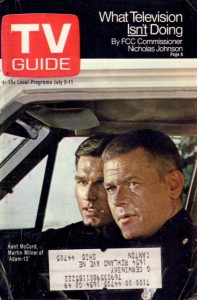 But the majority of the show centered on Reed and Malloy and their relationship/friendship. Malloy often approaches situations with a cool exterior and Reed often gets visibly emotional in various situations. And yet, the throughout the series the tables are turned and the opposite occasionally happens. A great example of this is Episode 158, "X-Force" where Malloy and Reed are trying to find a little girl wearing a red sweater. After spending a great deal of time looking for the little girl and growing increasingly desperate, Malloy finally finds her at the home of a child abuser and gives chase when the suspect runs. After being captured, the suspect mouths off to Malloy who snaps and uses excessive force on the guy. But after the adrenaline leaves him, Malloy accepts his fate with his normal calm demeanor even though it may cost him his next promotion. In the end, he is suspended for four days and while his fellow officers agree that he should have known better, no one really blames Malloy for reacting like he did. They all sympathized and probably figured that they would have done the same thing. Even Mac seems reluctant to enforce the rules against Malloy, but ultimately, they all realize that if the police cannot be held to a higher standard, then how can anyone believe in the rule of law.
Reed is the officer most likely to bend the rules for the greater good, but Malloy often acts as his rudder preventing Reed from going too far. Early in the series, Reed is involved in a shooting and while he appears very calm and relaxed during the Internal Affairs investigation, Malloy understands that because Reed is so calm, something is wrong. As it turns out, Malloy is there when Reed cracks and Malloy helps him through the investigation that ends in clearing Reed of all wrong-doing. When Reed believes another officer is being "heavy with the badge" everyone including Malloy thinks Reed is over-reacting, until Malloy sees the abuse for himself. Once that happens, there is a great moment when Reed confronts this bully officer with more years on force and goes face to face with him and Malloy is right there backing his partner up.
Perhaps one of the episodes that stands out most in my mind is Episode 83, "The Search" where the two officers split up to chase the suspects and Malloy loses control of the patrol car and it rolls down the embankment leaving Malloy with a broken leg and internal injuries. Reed convinces Mac to bend the rules and let him continue the search only to hear Malloy using the wires to the busted radio microphone to send out an SOS in morse code. Reed hears the clicks and zeros in on his partner's location and finds Malloy in time to get him much needed medical attention.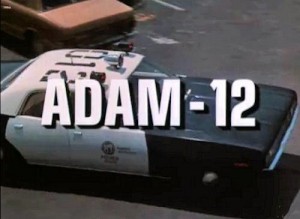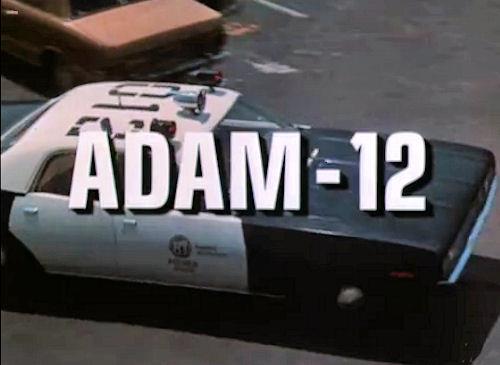 Malloy was the perfect choice as the driver on the show as Martin Milner previously starred in "Route 66," another show where he spent most of his time behind the wheel of the car. In ADAM-12, Malloy drove the police car in every episode with the exception of two episodes where Reed got to drive. In Episode 75, "Vice Versa", Malloy forgets to renew his driver's license and has to turn over the wheel to Reed albeit reluctantly. In Episode 119, "The Beast", the boys are having problems with their regular patrol car and are given a car almost ready for the junkyard instead. After several incidents requiring them to head back to the garage, Malloy finally has had enough and he tells Reed to drive instead. In the end, the car's parking brake fails and the car rolls down the hill and into a tree as Reed and Malloy watch with a certain amount of satisfaction.
There were two episodes that bear discussing because neither episode followed the normal format of an ADAM-12 show. Episode 60, "Elegy For A Pig" was filmed in documentary style with no dialogue uttered by any of the on-screen actors. The show opened with Jack Webb introducing the show and then Martin Milner takes over the narration until the show ends with another Jack Webb voice over. The show has Malloy telling the story of the death of one of his best friends who was a fellow officer. It tracks the emotional roller-coaster of Malloy and Reed as they honor the fallen officer and showed how police officers deal with this kind of tragedy. Episode 150, "Clinic on Eighteenth Street", starts normally with Reed and Malloy investigating the death of an old man wearing a strange electronic belt. But, the case is turned over to the Fraud division and the show then follows the fraud investigation all the way to the courtroom where a 'doctor' is on trial for selling false treatments. Ed Nelson, Frank Sinatra, Jr., Dick Haymes, and Sharon Gless guest star in this episode. The climax of the trial reminded me of some of the great Perry Mason moments when the defendant is on the stand and Mason tears the defendant's story to shreds.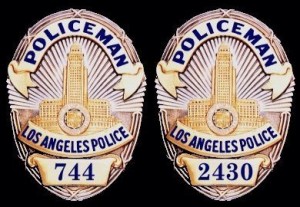 The series regularly featured new police techniques and new equipment. For example, one episode focuses on a statistical method of crime fighting, another focused attention on the SWAT teams used by the LAPD and several episodes centered on the new and expanding use of Air Support Helicopters to help police on the ground locate and capture suspects. In fact, Air Support was deemed so important that Episodes 147 and 148 make up a two-part show named "Skywatch." Reed and Malloy go up in the chopper as part of a program to educate ground units how to better work with the Air Support Team. The idea was one that Reed put in the management suggestion box and the brass decided to implement starting with the ADAM-12 team.
With a 30 minute show, the dialog had to be snappy, but there was plenty of time for humor and in my opinion the humor was critical to making the show work and to build the sense of friendship between Reed and Malloy. I love that the guys often flip a coin to figure out who is going to be paying for a 10 cent cup of coffee. The officers at the Rampart Division spend a lot of time gambling to get out of paying for meals, coffee or snacks come to think of it! Reed and Malloy often are ribbing each other about something. In one show, it was Reed's squeaky shoes and in another it was Reed giving Malloy a hard time about his newly grown mustache. Milner had the perfect reaction most of the time with just a look while Reed was more likely to grin really big. When the humor or lack thereof came from someone else, Reed and Malloy just had to look at each other and as a viewer you knew exactly what they were thinking.
Martin Milner had a great way of just looking at Reed or suspect and you could tell he thought the situation was ridiculous, but he played it straight and left it for the viewer to fill in the words. Less is often more in ADAM-12 and I think that is one reason the show was so successful. The show was never afraid to tackle tough subjects such as racism, domestic violence, child abuse, homelessness, old age, and a thousand other topics that are just as relevant today as they were in the early seventies. Some of these issues they faced head on and some they presented for the viewer to judge on their own. I must say I was surprised and disappointed to find that over 45 years ago when ADAM-12 started, this country was facing some of the same issues we are still dealing with today. For all of our advances in technology, we are still compromised by our own human condition. Perhaps that's why I think the show has weathered time as well as it has.
As I said earlier, Jack Webb and R.A. Cinader were geniuses because they focused on what really mattered instead of the whirlwind of crime. What mattered was the relationship, the partnership and the brotherhood that developed between Malloy and Reed. What mattered was how they reacted to the various situations, not the situations themselves. These two police officers were there to enforce the law, whatever the law was. They were not to judge the value of the law, just to enforce it. They were not to judge the suspects, but to bring them to justice. Malloy and Reed constantly remind each other not to get involved personally with people and yet they constantly fail to reach this goal because at the end of the day, they did their job because they cared about the public and they wanted desperately to keep them safe from the bad guys.
The title of this article called ADAM-12 great, morally unambiguous, reality television and I believe this is a true statement. There were good guys and bad guys and the lines were clearly drawn. Webb put two humans with aspirations of living within the bounds of the law and set them loose in a world filled with bad situations and bad people and then rather than preach to the audience about the good and the bad, he simply let the audience reach their own conclusions.
There are thousands of police officers who chose the profession because of ADAM-12, just as there are thousands of fireman and paramedics who chose that profession because they grew up watching Emergency! And if every one of those officers believe in the higher principles of the profession half as much as Malloy and Reed did, then the law is in safe hands.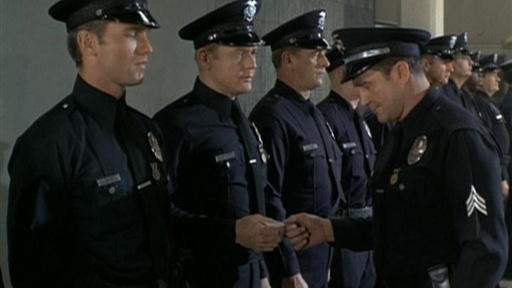 I highly recommend that you sign up or sign on to NetFlix and start to re-acquaint yourself with the boys in blue on ADAM-12. I think you'll find that it will be much more than just a walk down memory lane. After just a few episodes, you'll get past seeing the old cars and the old clothes and then you'll see ADAM-12 for what it is worth: A great bit of television in a world where great television is getting harder and harder to find. And, if at the end of 174 episodes, you don't agree that ADAM-12 stands head and shoulders above a lot of the drivel that is on television today, I'll bet you'll still have found enough to entertain you to make it worth the time.
It is fitting that the end of the series included the story of Reed saving Malloy's life and getting a medal of valor for his bravery. I guess it could be said that in a strange way Malloy saved himself by training Reed to be the police officer he turned out to be. And, perhaps that's really the magic Webb and Cinader created with these two characters. Their lives unfolded in front of our eyes and became permanently entangled as their friendship and mutual respect grew and in the end, we all knew that either one of them would have given his life to save the other in the great tradition of all brothers in blue. The reason ADAM-12 rises above the majority of television is that it made us care about Malloy and Reed almost as much as they cared about each other. And that is reality television that I can support and endorse.
I've included quite a lot of information in this article, but there's a lot more out there if you are interested. Here's a few links to websites that will give you details on the equipment used on the show, the cars, the guns, the radios, the uniforms, and even the lights on top of the cars. You'll find lots of trivia and some great photos.