In November, 2008, Pam and I took a trip to Scottsdale, AZ. Neither of us had ever been that far west and it was a great chance to see a wonderful part of the country we had never seen. Pam is on the board of Wesley House and when the opportunity to go to a conference for boardmembers came her way, we jumped at the chance. As usual, we decided to extend our stay a few days and be tourists for a short time since we rarely take full vacations.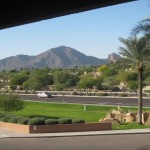 We stayed at a great hotel called the Millennium Resort (and just for the record, the promotional pictures on their website are exactly how it looked while we were there!) The resort is a condo/hotel combination with a patio dining area where you can sit in the open air and overlook the McCormick Ranch Golf Course. Our room was a little better than an average hotel room, and we had a balcony that looked out over Camel Back Mountain. All in all, it was a very comfortable hotel and the staff was great. We asked a lot of questions about what to see and do and everyone including all of the waiters were extremely helpful and willing to assist us any way they could.
The trip began for us around 3:30am as we got up and got ready to be at the Meridian, MS airport before the crack of dawn. I've been told all my life that whether you are going to Heaven or Hell, you'll have to change planes in Atlanta, and it's true! In order to head west to Phoenix, we had to start by heading east to Atlanta. Once in Atlanta, we changed planes and moved up from a small plane to a 757 but while the plane is much larger, I think the seats got smaller. Look, I'm no lightweight and I know it, but if they continue to design airplanes to seat skinny people less than 5 feet tall, the number of long distance flights I'll be on will be limited. I'm old enough to remember when you got bad food on airplanes and their solution to the problem was to cut out the food. Now the best you can hope for is a couple of bags of nuts or cookies (the cookies are really good but you only get two unless you ask!) and free sodas. You can buy additional snackfoods such as Pringles or M & M's but I think that defeats the purpose of having really small seats. With all the snackfoods available and the changes in air pressure, I think people were expanding in flight. I know I felt that way.
The one positive change that I found on the plane was the in-flight entertainment. Back in the day, there was one movie and everyone on the flight watched the same thing. This plane had miniture flat screen tv's built into the back of every seat. Headphones cost just $2.00 (which I think is to encourage people to buy them and forget that there is no real food.) but since I have my own headphones, all I had to do was plug and go. On the flight out to Phoenix, I listened to music. There was a pretty good selection of audio CD's that you could pick and choose from. On the flight back, I watched satellite tv and surfed as much as I wanted without upsetting Pam by constantly changing the channel (Kudos to the airlines for this feature!).
Finally, we arrived in Phoenix which has a beautiful airport and after gathering up our luggage which arrived on the same plane as we did and we headed to the car rental building. Since we live in a small town it was surprising to learn that the car rental places were in a separate building about 5 miles away from the airport itself. Constantly running bus shuttles get you to the building fairly quickly and when you enter the building all of the possible rental agencies are all lined up in a semi-circle about a mile long. I checked with two places and ended up going with the guy at the first company that offered me a candy-apple red H3 Hummer for a great price. Pam smilled and rolled her eyes, but I couldn't wait to get behind the wheel and check this cool ride out! Here's one of my favorite pictures from the trip: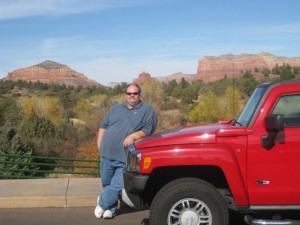 After the educational conference, we embarked on our tourist activities and called a company that rented ATV's for rides in the desert. A guy met us at the end of a dirt road that ran along the edge of the Sedona National Forest where we were set up with a Rhino two-seater ATV, a map with handwritten notes, some bottles of water and then we were told that he would be back in 3 hours and if we were not back within 4 hours they would send out a search party. I tried to put that part out of my mind and we fired up the Rhino and headed into the National Forest. We found the natural wash and followed it down to a river that ran year round. I gotta tell you: Nothing beats running at full speed through the desert with the wind in our hair, sun in our eyes and grit in our teeth! What a rush! Below are some pictures we took along the way.
Tired from the ride and frankly getting a little cool since the sun was going down pretty quickly, we headed back to the rendezvous point and waited for the guy to come back and pick us up. Sure enough, he came back as he said and loaded up the Rhino and we headed back into town to find some dinner. We needed to turn in a little early because the next morning, we had scheduled a hot air balloon ride. Pam has always had this on her "bucket list" and I was pretty jazzed about it as well since I've never been up in a balloon and I wanted to video tape the trip for our memories. We got up before the sun and headed out from the hotel to Deer Field Airport to meet up with the guys from Hot Air Expeditions. I would recommend this company to anyone! They were extremely well organized, lots of fun and highly professional. If you are ever in Phoenix or Scottsdale and want to take a ride yourself, give them a call. Here are some still pics from the trip and below the gallery is the video of our flight.
After landing back on terra firma and returning to the Deer Field Airport, we fired up the H3 and headed out to Sedona. It's about a 1.5 to 2 hour trip from Scottsdale and there is some great scenery along the way. One weird thing that I noticed about halfway there was that all of the saquaro cactus that surrounded us in Scottsdale vanished. Pam and I assumed it was because we were going up in elevation since Sedona is about 5,000 feet higher than Scottsdale, but we have no real knowledge to confirm this. I'm hoping that maybe someone who knows will email me and let me know why if they find this post. Anyway, about 20 miles before we reached the turn for Sedona, we stopped in a little place called Camp Verde, AZ for a snack and a soda. Leaving the store, we saw a sign for Montezuma's Castle and working hard to be tourists, we decided to check it out.
Turns out to be a pretty cool tourist attraction. The Castle is a well preserved cliff dwelling built by the Sinaqua Indians who lived in the area about 1,000 years ago. After developing ot a thriving community, the Sinaqua vanished leaving behind this high-rise mountain cliff apartment house. It will take you about 30 minutes to see everything if you are in a hurry, but you can linger as long as you like. We got some good pictures that you'll find below:
Once again, we climbed into the H3 and headed toward Sedona. Interestingly, up to this point, while the scenery was beautiful, everything was basically one of three colors: tan, green, and black. After finding the turn to Sedona and traveling about 15 miles through another National Forest (which I have to point out is not like any National Forest I've been in since none of the trees were over 20 feet tall and most were much less than that!), we started up a rise that took us between two large hills/mountains and as we came out on the other side, the world changed and opened up in front of us in colors that I simply cannot describe. There are no photographs that can capture the view adequately or give you the same feeling we had as the landscape turned from monochromatic to a lightstorm of color. I'll let the pictures below try to give you a sense of it all, but if you've never been to Sedona take a trip and go see it!
I love the Great Smokey Mountains, but these mountains blew me away! Plus, the sky was bluer than I have ever seen before. The contrast was dramatic and it only got better as the sun started to go down.
As the sun sunk low and lit the sky on fire, we headed back to Scottsdale for one more night and then headed home to Meridian the next day. There are other stories to tell and one day I'll tell you about the Moonbat Sisters who accompanied us on the balloon ride and the Crystal Chicks we met just outside of Sedona, but those stories will keep for now. Enjoy the pictures and the video, comment if you'd like and better yet plan a trip to Arizona. You'll have a great time and see things you've never seen before. How cool is that!