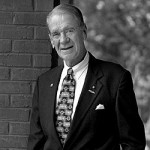 In 1982, I met a man who would remain in my life for twenty-four years. I am proud to say that he was my friend, my congressman, and my Optimist Brother for over half of those years. Today, I watched his funeral on television and in my own way grieved that he is gone, and celebrated that I had the opportunity to get to know him at all.
When I was a junior in high school, I was part of a group of history students who took a trip to Washington, DC, by way of Williamsburg & Appomattox, Virginia. On our trip we saw many of the places we had read about in our Pearl, Mississippi classroom. In learning how people lived in the late 1700's and seeing where General Robert E. Lee surrendered with grace and honor to General Ulysses S. Grant, we came face to face with giants of history.
Upon reaching Washington, DC, we visited The Smithsonian, the Washington Monument, and many of the other sites that tourists to our Nation's Capitol visit. Before we left on our trip, our teacher arranged for us to meet our congressman and to tour Capitol Hill. When we arrived in Washington, we were told that our congressman could not meet with us because of other commitments. We were all sad that we wouldn't get to meet our congressman, and we wouldn't get the tour that we were all looking forward to taking.
But at the last minute, we got word that another Congressman from Mississippi had heard about our situation, and wanted to meet with us instead. G.V. 'Sonny' Montgomery made himself available to a motley group of high school students from someone else's district and made an indelible impression on at least one of them. Not only did he have his picture taken with us on the steps of the U.S. Capitol, he arranged tours for us of the Capitol and the Library of Congress. This man was a stranger to all of us and yet he treated each of us with sincere warmth. After the group picture, he had pictures taken with each one of us individually, and then sent a copy of the formal picture to each of us after we got back home. Each student received a presentation folder with an 8×10 picture of the whole group and a note from Sonny.
I was acting as a roving journalist for a local weekly paper back home in Pearl and I documented our trip and our experiences in a diary that I kept of our trip and summarized the highlights into an article that appeared in that paper. I was surprised after a couple of weeks when a letter came in the mail for me from Sonny's office with a clipping of the article for me to keep. Another letter appeared in my mailbox a few months later after I received the National Leadership Merit Award. I got my picture in the paper holding my honor with a short blurb under it telling who I was and what the award was for. In the envelope from Sonny's office, was a card with the printed message "I read something nice about you in the paper." Taped to the inside of the card was a clipping from the newspaper with my picture.
I had never before received mail personally addressed to me from a Congressman's office much less from one that knew my name, but you will never know how much that meant to a geeky high school kid. It inspired me to take another look at politics and the following year, I served as a page in the Mississippi State Senate for Lt. Governor Brad Dye. After the week of service, I got a chance to meet Governor William Winter and got my picture made with him. I'm sure that Governor Winter was a good guy, but it didn't feel the same as it did the day I met Sonny. It was a photo op and nothing more. Maybe Governors are busier than U.S. Congressmen. Perhaps it was an off day. Either way, I made the decision that while I was interested in politics and would continue to be connected by studying issues and voting my conscience, politics were probably not in my future. I realized that while Sonny was the first politician I had met, and wouldn't be the last, he was unique among all of them.
Fast forward to 1991, I had graduated from the University of Southern Mississippi, begun my career as a computer nerd, moved to Meridian, MS, and was well on my way to opening my own computer service business. I realized when I moved to Meridian, that I was now in Sonny's district and was looking forward to the day when I would get to vote for him for the first time. I joined a civic club called the Downtown Optimist Club of Meridian to broaden my business contacts and learned much to my surprise that Sonny was a life member of that particular club. I was excited to be a part of something like the Optimist Club and looked forward to meeting Sonny again if I ever got the chance.
Civic clubs exist to give people a chance to give back to their community and as I gave more and more time to the projects of the club I quit worrying about trying to broaden my business contacts. I worked the Pancake Jubilee and rang bells for the Salvation Army and I listened to the older members tell stories about the old days, good times, and past members and I would always perk up when I heard stories about Sonny. He visited from time to time over the years and I spoke to him on those occasions and he was always warm and welcoming and I looked forward to seeing him at Pancake Jubilee if he was in town when it was held.
I learned a lot from the work and the stories the guys told and in particular from one Optimist Brother. Bill Herndon, who was also a life member like Sonny and had served side-by-side Sonny during the many years before I joined. Bill took me under his wing and mentored me in my Optimist obligations and duties. More than any other member, Bill taught me what it meant to be an Optimist, and an Optimist Brother. Optimist Bar-B-Cue fundraisers were not complete without Bill's Beans. Bill encouraged me to become a part of the Optimist Board and I served for a year before being elected Club Treasurer, then Vice President, and ultimately President.
During my term as President, I had an opportunity of a lifetime. Sonny was coming to town and someone had invited him to speak to the guys in the club and I would get to introduce him. I couldn't wait to tell the story of the high school visit to the U.S. Capitol. And when the time came and I told the story, I saw a smile on Sonny's face. He rose to speak and thanked me for the introduction and promptly waved my praise away and acted like the things I told about were nothing special and something that any other Congressman would have done. I knew better. People like Sonny are rare. Congressmen like Sonny are rarer still.
In time, Bill Herndon passed away and when he did, Sonny was promoting a new program that took troubled, drop-out kids and gave them the opportunity the first time they got into trouble to participate in a "boot camp" at Camp Shelby, a National Guard Training facility near Hattiesburg, Mississippi where they would learn discipline and get their GED and try to make their lives better. Bill Herndon had always been interested in education and in spite of the fact that Bill never wanted us to make a big deal over him, we decided to create something that combined Sonny's love of young people and the National Guard with Bill's love of education. To that end, I was able to participate with several of my Optimist Brothers in the creation of the Bill Herndon Scholarship fund, which would provide tuition for any graduate of Sonny's Boot Camp who wanted to attend Meridian Community College. Sonny came to the meeting when we made our first major contribution to the college and I think he was pleased with our efforts.
Since then, the Optimist Club has contributed over $15,000 toward endowing the Scholarship fund forever. We have a few more contributions to make before we reach our ultimate goal, but the Scholarship has already provided some funds for Sonny's graduates and in the future we hope that this fund will provide scholarships for many more students. [UPDATE: As of November, 2008, the Downtown Optimist Club of Meridian fully funded the Bill Herndon Scholarship fund with $25,000.]
One other quick story…In 1998, I proposed to my wife on the 4th of July under the fireworks display with the Meridian Symphony playing patriotic music as our backdrop. After I almost dropped the ring, stumbled through the words and my new fiancé said yes, the concert was over. I turned around and realized that Sonny had been sitting near us during the show and as I shook his hand I told him that I had just gotten engaged. Sonny was the first person I told about my engagement and he smiled bigger than I had ever seen him smile as he wished us a long, happy life together.
On my birthday this year, I saw Sonny for the last time. On March 28th, 2006, the Downtown Optimist Club of Meridian held the 57th annual Pancake Jubilee. While mixing batter, I saw Sonny come in and sit down and begin to eat his pancakes and sausage. I walked out and sat down next to Sonny and he looked up and said, "Hey buddy how's it going?" We chatted for a few minutes and he told me that he was so proud of the Downtown Optimist Club for doing this year after year and using the proceeds for such good causes. I could tell his health was not good and I remarked to my wife that he looked frail. I didn't realize this would be the last chance for me to visit with Sonny, but I'm so glad that I took the time to do so.
On Friday, May 12th, 2006, G.V. 'Sonny' Montgomery passed away at his home in Meridian, Mississippi. I'm sure that a million people out there have their own memories of their experiences with Sonny. I just wanted to share mine with you and tell you how this man affected my life in giant ways with little actions. I can't remember the name of the congressman who couldn't meet our class on our trip, but I will always remember Sonny's.
Godspeed, Sonny. Tell Bill I said hello.